When: Wednesday 7 June, 18:30 – 22:30
Where: Silver Sturgeon Yacht
Dress code: Business Attire
High-level networking event and evening dinner on a luxury yacht
Sponsored by JDR, network during a dinner reception with excellent food, drinks, entertainment and a cruise on the river Thames alongside London's landmarks. By embarking on this yacht, you will follow in the footsteps of the British Royals and famous artists and actors that were already welcomed on-board. The yacht has been redesigned over the years by leading British designers and architects and is still one of the most prestigious vessels on the Thames.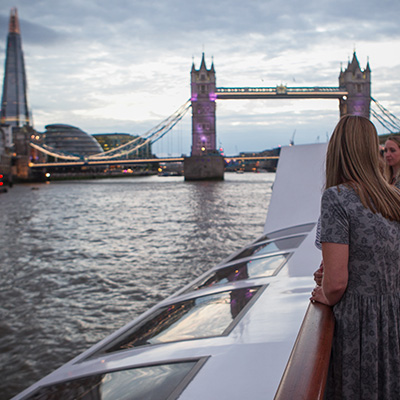 Itinerary
18:30 – Board the Silver Sturgeon at ExCeL London.
18:45 – Depart for luxury river cruise
After welcome drinks and canapés, help yourself to a wide selection of mouth-watering food whilst taking in the sights of London from the yacht's luxurious roof terrace.
22:15 – Dock at the Savoy Pier, Central London*. Guests are now within a 5 minutes' walk from London's Covent Garden and West End.
*Note: Guests must arrange their own transport back to their hotels.
VIP booths
VIP booth packages are also available consisting of a private booth, tickets to the cruise, additional branding and drinks.
Contact David Moyle for further information.
Tickets
There is a limited number of tickets available for this cruise. Please purchase your tickets through our registration system or by contacting Anne Lannoy.
Note: The ticket can only be purchased by Conference & Exhibition or Exhibition-only pass holders.