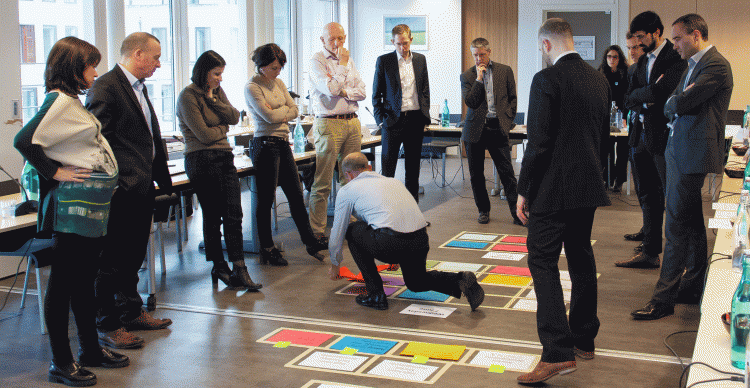 The programme committee met on 24 February at WindEurope's office in Brussels, to present session proposals and build the agenda of the conference.
The outcome of the meeting is currently being reviewed by WindEurope and RenewableUK, and will be made public in the coming days.
Authors will be notified in early March, and the full programme will be published by mid-March.

Tuesday 6 June 2017
09:30-11:00
Opening session
11:00-11:45
Networking break, poster viewing and press conference
11:45-13:00
Offshore wind and the wider energy system
13:00-14:30
Lunch & poster viewing
14:30-15:45
Offshore wind market outlook
Technology developments – scaling up and bringing costs down
15:45-16:30
Networking break & poster viewing
16:30-17:45
Market developments in China
Offshore wind wakes: using operational data to improve models and reduce uncertainty
Making today's technology more competitive
Ports: a cooperative approach to integration in the offshore wind supply chain
Time TBC
Exhibition reception (TBC)
Wednesday 7 June 2017
09:30-10:45
Global market developments – Japan, Taiwan, USA
Sensing offshore wind
Grid integration- software: advances in control technology and software simulation for transmission and multi-connection grids
New initiatives to improve health and safety
10:45-11:30
Networking break & poster viewing
11:30-12:45
Share Fair: Winning contracts in offshore wind
Modelling offshore wind
Further reducing the costs of capital
Learning from offshore wind incidents
12:45-14:15
Lunch & poster viewing
14:15-15:30
Advancing technology by better design and validation
Working with your neighbours: cross-border in the North Sea & Baltic
Dealing with long-term price risks
Improving planning of offshore wind farms & coexistence in increasingly busy seas
15:30-16:15
Networking break & poster awards ceremony
16:15-17:30
Innovative technology for offshore turbines
Tender design and good practice across Europe
O&M game-changers
Using innovation to address consenting risk
Time TBC
Stand parties
Time TBC
Gala evening: river cruise on the Silver Sturgeon (separate ticket required)
Thursday 8 June 2017
09:30-10:45
Making floating wind energy commercially competitive
Grid integration – Hardware: new technologies for offshore energy transmission and connection
Installation challenges & solutions
10:45-11:30
Networking break & poster viewing
11:30-12:45
Design and analysis of floating wind turbines
Offshore wind in the UK: the market and progress
Making the most of synergies between oil and gas and offshore wind
12:45-14:30
Lunch & poster viewing
More information
For more information, please contact Lorenzo Morselli or Alice Rosmi, WindEurope Conference Programme Managers at conference@offshorewind2017.com